Art by Tolpo Bader
Fine Art Portraits by Ti Tolpo Bader
In Acrylic Paints or India Ink
Canine Portraits
Such as:


A Canine portrait with a Child  or an Adult  –  Memorial
 pet portrait- a Biographical  portrait of  various life stages 
or a Canine portrait with other Family Pets can be created 
on canvas with Acrylic paints or with India ink on French archival hot-pressed 140lb paper.  Family photos, new, old, 
even damaged can be used for reference.  A subject can be 
taken from a group photo or a single photo.  Also, separate photos can be combined  to create a painting of an individual or a family portrait.

Copies of photos made on a digital or color copier….original size….are 
accepted.
Click on pictures to enlarge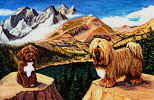 hank you for your interest and for visiting ArtByTolpoBader .com
Contact by: Phone, Mail or Email
P.O. Box 52 Grant, Co. 80448 303-816-0277Email: [email protected]
Art Work Images 2003-05© Ti Tolpo Bader. All rights reserved. Web Design TTB